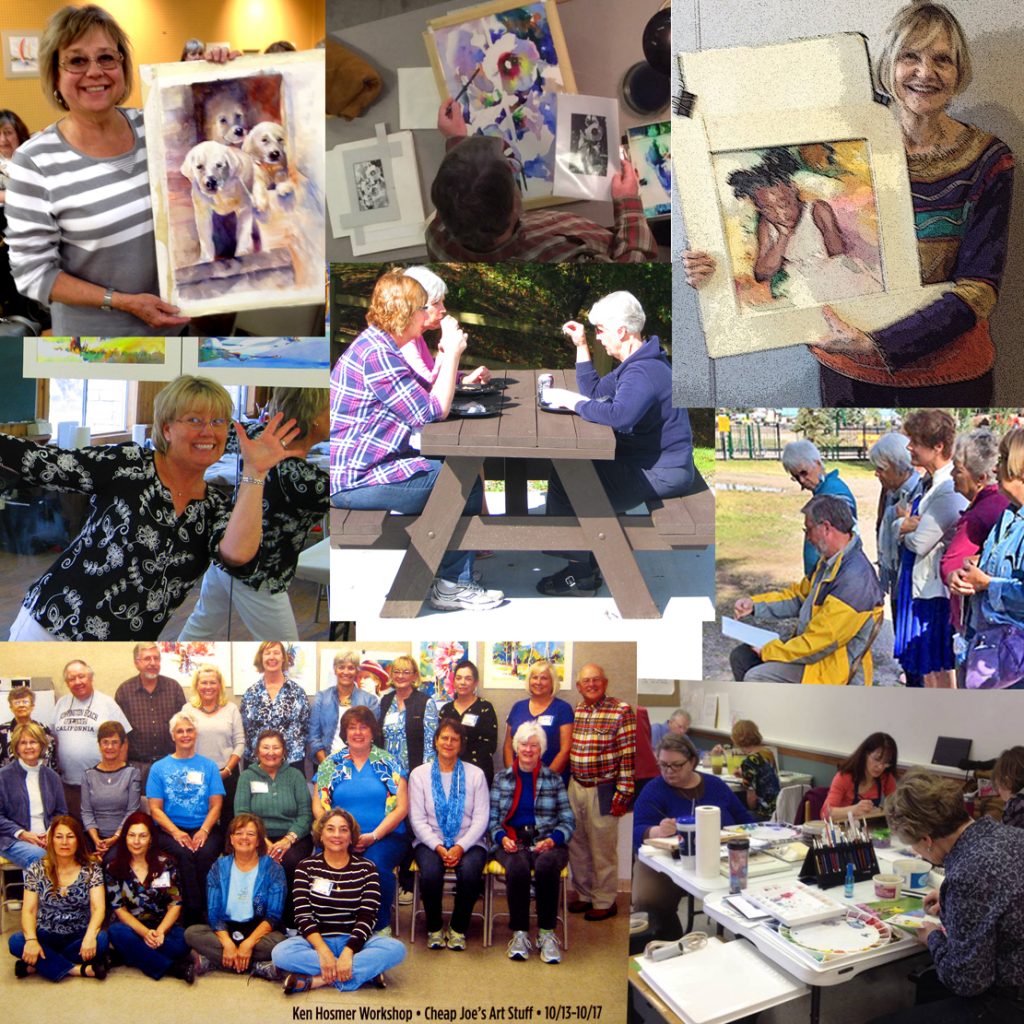 Find the Right Class for Your Needs
I attended my first art workshop in the summer between my junior and senior year of high school—and I've never been the same since! I offer these eight simple suggestions to help you get the most out of every painting workshop.
Featured Image:
Ken Hosmer Workshops—photo collage
Actually, painting workshops have changed my life forever. Having taught watercolor workshops now for over thirty years, I still occasionally take workshops from other artists, and I have met delightful friends and seen wonderful places along the way. I love the fact that there are no grades, and the workshop experience is concentrated, allowing me to do many paintings and absorb plenty of information in a relatively short time period.
There are many choices. So how do you find the best workshop that fits your personal needs?
Review the Class Description
It is a good idea to ask questions to determine the general workshop procedure and skill level. Does the instructor provide a fair amount of individual help in addition to demonstrations and group critiques? Beginner and intermediate classes ideally offer more individual help, while advanced classes may emphasize more independent work time. Usually art workshops last from three to five days, with about five to six hours of instruction or painting time each day.
For Studio workshops you usually have your own spot at a work table and often supplies can be left overnight. In watercolor workshops, painting demonstrations are usually displayed with a demonstration mirror or video screen for easy viewing.
On-location or Plein Air workshops meet at various outdoor painting sites and may only have a studio backup location in case of bad weather. Be aware that outdoor workshops are more physically demanding and usually cater to more advanced painters.
Paint-along classes are usually geared to beginners. The teacher paints one step or section of the painting, then stops. Students then complete the same step. All student paintings are identical in subject. Although this teaching style encourages first time painters who may be unsure of themselves, be aware that long term, it can slow or limit learning.
For my Studio watercolor workshops, I generally have a mixture of student skill levels. So when I present an art idea such as color, I discuss the basics first. This acts as a foundation for the beginners and as a review for more advanced painters. Then I kick it up a notch, discussing more intricate applications for the intermediate and advanced painters. Also I have noticed that beginners benefit from hearing these higher level concepts. When I do the painting demonstration, I reinforce the color ideas again explaining as I paint. After lunch, as students work on their own paintings, I circulate around the room personally coaching each student at their own level. My goal is to give beginners plenty of personal help and to challenge the more advanced painters with individual short critiques. Students have the opportunity for experimentation on different subjects of their choosing and work at their own pace. My demonstrations rotate to different subjects such as landscape, floral, animals or human figures. Although sometimes challenging as a teacher, this system produces great results.
Come Prepared—Request a Supply List
Find out if the class has a supply list of items you should bring, or if some items are provided or for sale at the workshop. Especially check for unusual or specialty items on the list. There is nothing worse than not being able to properly try a new method or technique because you don't have the required materials.
For example, my watercolor supply list says 100% rag paper is a must. If a student brings cheaper non-rag paper, then the paint doesn't flow correctly—resulting in frustration. (To avoid confusion, if paper is 100% rag, it will always say so on the packaging, as this is a selling point.) Also, for those students on a budget, my supply list specifies some items as being optional.
Set Realistic Workshop Goals
I often start a workshop by asking students to verbally list several things they would like to learn during the workshop. The answers are sometimes surprising, but there are usually a number of common areas of interest. For example, a common statement by students might be: I want to loosen up and learn to use stronger color. As a teacher, I then have the opportunity to address these target goals in my presentations.
Learning is often enhanced by simply clarifying your intent. Although you may not totally master your goals in one short workshop, if you make progress toward your objective, then consider your effort a success.
If you are a beginner your goal might be to just relax and absorb everything you can. You will learn a great deal by observing others. And don't worry about feeling a bit overwhelmed, as this is a natural part of the process. Each painting gets easier and it is amazing how quickly improvement comes.
If you are a more advanced painter, it is especially good to ask yourself, "What is unique about this instructor's painting style, that I would like to learn?" This way you can focus on the instructor's strong points. When I take a workshop, if I get one good new idea, I consider it worthwhile. And I never know when I will hear something stated in just the right way, for a new idea to hit home.
When I teach a workshop my goal is to provide students with many good ideas which they can use within their personal painting style.
Keep an Open Mind
Prepare yourself mentally for the workshop. Temporarily set aside the "I always do it this way," and forget that "so and so taught you to do it that way." You are at the workshop to learn a new way of doing things. Step out of you comfort zone and don't be afraid to make mistakes.
If you are an intermediate or advanced painter, remember that you are not at the workshop to impress others, but rather to experiment with new ideas. After the workshop is completed, and after you have given new ideas a chance to really soak in, then decide which to incorporate into your personal technique and which to abandon.
Ask Questions
Don't be afraid to ask questions. In my workshops, I include designated times for group questions. As a teacher this provides feedback on what students are most interested in, or are having difficulty in understanding. For some, the group setting is intimidating, but just remember, there is no such thing as a Dumb Question. Usually as soon as you ask, you will notice there are others with similar inquiries.
Take Notes and Photos
Carry a spiral notebook for notes, as loose sheets of paper tend to get lost. How many notes you take is personal preference, but it is good to jot down anything that really stands out as important. I always like to review my notes later in the day and add to them while the information is still fresh in my mind. One caution, if you are an avid note taker, don't miss out on really watching the painting demonstration.
Step-by-step photos as a painting progresses can be a valuable assist. However, please ask permission from the instructor before-hand. And remember to turn off your flash. New digital cameras function just fine without the flash and it can be very disruptive—especially if you accidentally flash-blind the teacher. 
Learn from Critiques
Most workshops include some form of individual or group critique. Embrace this as another positive learning tool. If you avoid critique, chances are you are being too hard on yourself—in a workshop we are looking for progress, not perfection.
In my workshops I give individual critiques as I circulate around the classroom and a final group critique at the end of the workshop. For students it is fun to see what everyone else has done, and by students showing first-day and later paintings it is easy to see progress in our core focus ideas. As a teacher it gives me a chance to point out successes and suggest areas for continued improvement.
Have Fun!
As we pursue improving our art, don't forget to enjoy the process and have fun. For some of us, it is easy to fall into the trap of taking ourselves too seriously. Based on the daily painting, each workshop has up days and down days. Don't dwell on paintings that didn't work out, rather focus on what you learned from that painting and move on. In watercolor we love to say, "it's only a sheet of paper!"
By selecting the right type of workshop to fit your needs, going to class prepared and keeping a positive mental attitude, you should have a rewarding and fun workshop experience.
I hope you too can join us for a 'Great Watercolor Workshop'!