Watercolor Painting Videos on DVD
GREAT videos!  Each includes multiple, well explained painting demonstrations.
(valid to January 30, 2020)


DVD VIDEO
PRICE REDUCTION
Buy Any DVD for only $35.
(previous price $38)
$7 shipping & handling (1-3 videos) to USA.
DVD videos are formatted to the NTSC system used in the USA and Canada.

PAL, the system used in Europe, is not available.
SECRETS OF
FLOWER PAINTING

108 minutes
This exciting video shares key secrets to painting enriched, beautiful flowers in watercolor. In Part 1, Ken introduces an easy four-value painting system as he guides you through a simplified painting of pansies. In Part 2, he emphasizes exaggerated light shapes and shadows to create the curving forms of roses. Both paintings are explained as they progress, giving insight into the artist's thinking.
reduced price $35
WATERCOLOR REFLECTIONS
PAINTING TREES & WATER

55 minutes
Quickly capture the impression of trees reflecting in a forest lake. Ken shows two short watercolor demonstrations of technique, followed by a complete painting demonstration.This is the newest in our video collection and a 'must have' for landscape painters.
reduced price $35
HOSMER'S MAGICAL
INK SKETCH
DEVELOPING
PAINTING IDEAS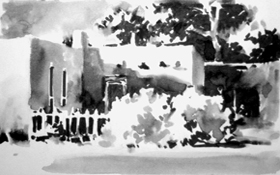 75 minutes
This fascinating ink wash method started over 20 years ago as a simple teaching tool. Today it has evolved into a mainstay for developing painting ideas. This video includes three complete ink demonstrations: (1) landscape with adobe, (2) cone flowers, and (3) cattle. In the Gallery, Ken presents a valuable reference guide of eighteen ink sketches, of which ten are accompanied by the resulting completed painting.
reduced price $35