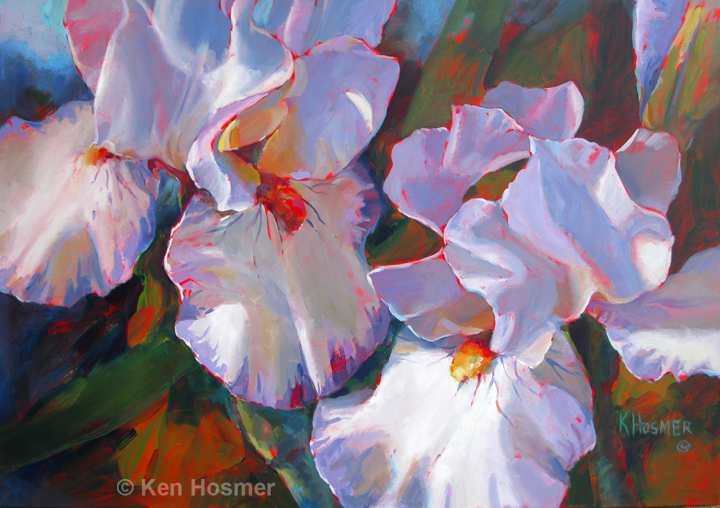 Acrylic Painting on Canvas
With the fairly recent introduction of Golden brand OPEN acrylic colors, which dry much slower than traditional acrylics, I see new possibilities for blending acrylic paint—similar to methods used in oil painting.
Featured painting:
'Iris'—30" x 40" acrylic on canvas by Ken Hosmer
For me, winter is generally a time between workshops, a time to do commissions, or a time to paint on my own and try new ideas. This season I have been experimenting with large-format acrylic paintings on canvas.
I have long loved the thick, cake-icing consistency and blendability of oil colors. So the Big Question: Can I now achieve similar results with water soluble acrylics?
Traditional acrylics dry rapidly, lending themselves to a more layered approach. The fast drying makes blending nearly impossible. Even small blended areas have to be attacked rapidly with vigor, a race against time—not the relaxed approach I appreciate in oils.
So with the new OPEN acrylic, I play with more blending and thicker paint. I discover that in most cases, I have about an hour and half to work the paint, rather than only minutes as with previous acrylics. I can also easily overlay fluid blends on top of fast drying thin layers.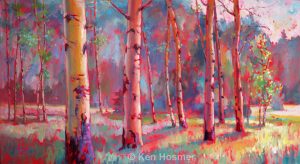 'Aspen Symphony in Red'—24" x 48" acrylic on canvas by Ken Hosmer
Although it is fun to experiment with technique, my top priority is to create a mood or emotional response.
I mix the different types of acrylics and acrylic mediums to control desired drying time and paint viscosity. For example, by combining the Golden OPEN Acrylic Gel (gloss) with the traditional fluid acrylics sold in plastic bottles, it thickens the paint and slows the drying time.
Can I use the OPEN acrylic for palette knife or thick impasto brush applications? OPEN acrylic comes out of the tube somewhat thinner than the desired cake-icing consistency of oil paint, so for palette knife or heavy impasto applications, I thicken the paint with a mixture of approximately 1 part acrylic OPEN Gel and 1 part traditional acrylic Heavy Gel. However, this does reduce drying time. (At this time OPEN Heavy Gel mediums are not available.)
As with watercolor and traditional acrylics, temperature and humidity influence how fast the OPEN acrylic dries. So in cooler winter months, the paints dry slower, even though I normally keep my studio at about 70 degrees Fahrenheit. The paint is usually dry to touch by the next morning. If Open acrylic areas dry too slowly, I occasionally buzz the area with a hair dryer to speed surface drying; however I do this with caution.
In conclusion—OPEN acrylic is a great addition to traditional acrylic, offering many new possibilities for paint manipulation. Overall, comparing acrylic to oil, the quicker drying time and ease of water cleanup makes large-format acrylic painting a very desirable option. Also worth mentioning, for large paintings, I generally use 1-1/2 inch depth gallery wrapped canvas and paint around the edges for a modern look, with no framing required.
If you like to play with color and would like to try something new, check out the 5-day Cloudcroft, New Mexico workshop—a great way to beat the heat this summer. In this workshop, I offer a variety of techniques applicable to both oil and acrylic paints. Students may choose to work in either oil or acrylic.
For more technical details: Golden Product Info Sheet for OPEN Acrylics
'After the Rain'—24" x 30" acrylic on canvas by Ken Hosmer
This is my submission for the Impact Nebraska Artists, Skyscape exhibit.