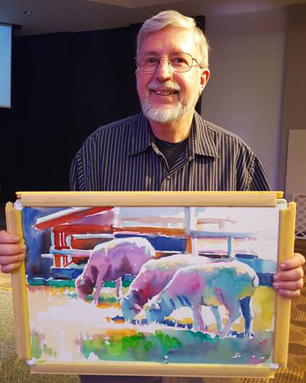 With Fun Quick Videos
As my art workshop travels wind down for the year, I think of all the wonderful experiences and people I have met along the way. Each group is unique with its own personality, and each location provides new adventures. It is a joy as an artist, to share, explore and learn while I teach.
Featured Photo:
Ken, after completing his painting demonstration for the Southwestern Watercolor Society meeting in Dallas, Texas. (photo courtesy of SWS)
In 2018, I began the teaching year with an outstanding workshop for the Southwestern Watercolor Society in Dallas, and ended the year with an oil painting class for the delightful Mississippi Artists Guild in Jackson.
Following are several fun and quick videos of other favorite workshop locations. Click the blue link below each video to learn more.
Watch and enjoy!
Hill Country Arts Foundation, Texas
Cloudcroft Art Workshops, New Mexico
I offer a special THANK YOU to the workshop coordinators and students who made this fantastic art journey possible.