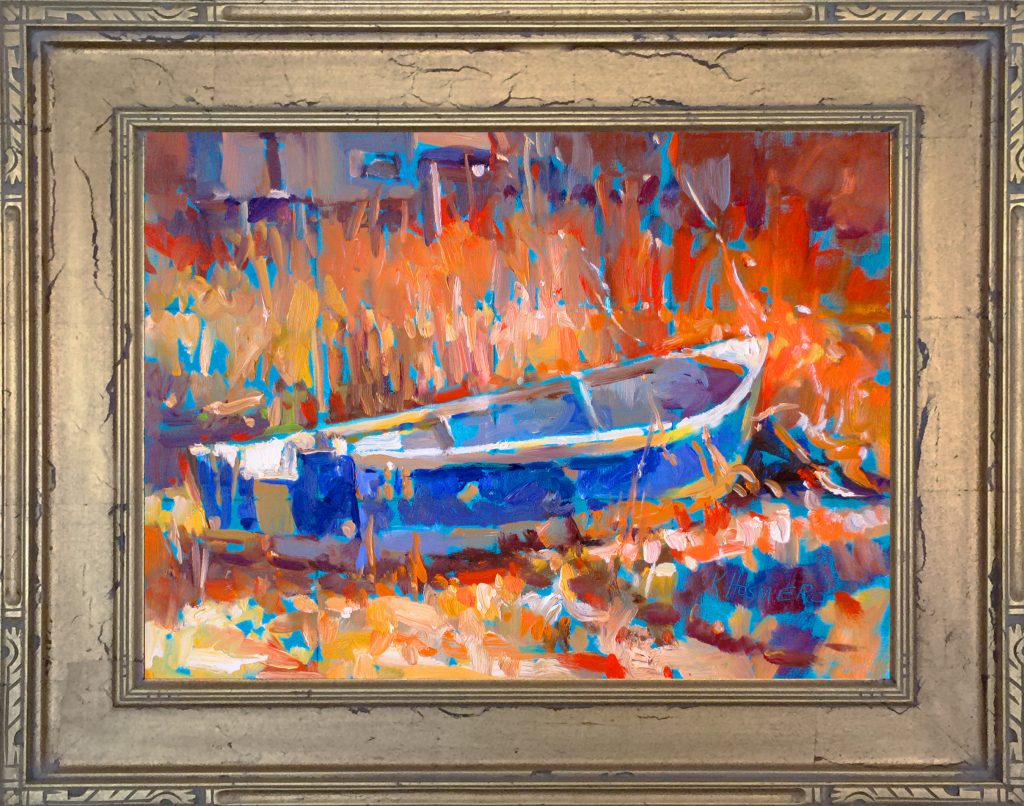 Part 2: Oils and Acrylics
Since framing an oil or acrylic painting, on a stretched canvas or panel, doesn't require glass or plexiglass to protect the painting, the procedure is much simpler than framing a watercolor or pastel. However, there are still a number of challenges as well as additional choices to consider.
Featured Painting:
'Gone Fishing'—oil painting by Ken Hosmer
Plein Air Style Carved Wood Frame, Antiqued Gold Leaf
Framing Traditions
Over the years, I have noticed that picture framing is influenced by fashion, and fashion keeps changing. I can remember going to great expense to acquire gold leaf wood frames with single piece linen liners—the gallery standard at the time. Today, gold leaf wood frames are still very much in fashion; however, linen liners are dated. The current fashion for oil paintings favors the plein air look, with a wide flat liner often gold leafed, indistinguishable from the outer frame.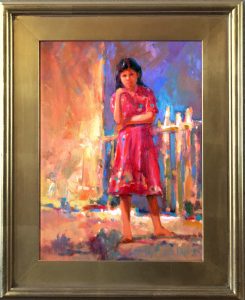 In addition we now have a number of simple and minimal frame styles for oil and acrylic paintings, more similar to the narrow sectional frames used for watercolors.
Carved Wood Frames
Although there are exceptions, oil paintings generally utilize wood frames. The traditional finishes include gold and silver leaf and variety of browns. A number of frame styles include decorative carving.
Beware that many of the carved wood frame styles are visually quite busy, and some of these emphasize the carving with dark antiquing applied in the crevices. This can easily detract from the painting.
If I use a frame with carving, I prefer a subtle design with less emphasis on the carved design. For this reason, on a gold leaf frame with carving, I might apply a light grey wash of alkyd or acrylic paint over the carving. I then wipe this off of the high surface areas with a soft cloth, leaving it deposited in the dark crevices. This deemphasizes the carving. Also such applications can be used to hide scratches or dings on frames.
Again I focus on the basic caveat—the painting is the star of the show, and should be enhanced by the framing. I want the viewer to look at the painting, not the frame.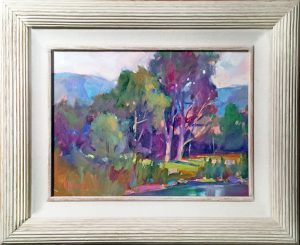 Picture Varnish
Since oil and acrylic paintings are framed without glass, tradition dictates coating them with a protective layer of picture varnish. Standard practice for oil paintings is to allow the paint to dry (oxidize) for one year before applying varnish; allow acrylics to cure for at least one month. However, in reality artists often get in a hurry—the show is in a few weeks and so we frame without varnishing. Leaving the painting temporarily unvarnished is actually better than sealing the painting with varnish before it has thoroughly cured.
In the past, damar varnish was the standard. Today there are many fast drying, synthetic spray picture varnishes on the market with both gloss and matte finishes. These usually dry to touch in about 30 minutes. I personally prefer the matte finish because it reduces glare. As mentioned earlier, fashion keeps changing, and in the past high gloss varnish coatings have been popular.
If your painting dries with annoying dull spots, apply a thin coat of painting medium to the dull areas. Don't apply picture varnish until this thoroughly dries. Also note, it is best to avoid spraying picture varnish on hot humid days, as the varnish can absorb moisture particles from the air and cloud the coating.
Standard Frame Sizes
Custom framing is very expensive, so it is best to choose standard size canvases or panels for your paintings. Common standard ready-made frame sizes (expressed in inches) include: 5x7, 8x10, 9x12, 11x14, 12x16, 16x20, 18x20, 18x24, 24x30, 24x36, and 30x40.
I can distinctly remember getting ready for a show; four nice frames hang in my studio; none of them fit my current paintings; quite frustrating. So now to further simplify the process, I limit myself to a few favorite standard sizes for paintings. I then keep extra frames on hand in those sizes.
No Frame
A current popular trend, which I actually prefer for larger paintings, is to hang paintings on stretched canvases directly on the wall, without any framing. This requires the use of gallery wrapped canvases. These have a depth of about one and a half inches; the canvas is smoothly wrapped around the edges of the painting and stapled on the back with no visible edge staples. The artist then either continues the painting around the sides of the canvas or paints the edge a color. Simple and easy—no framing required!
An alternate variation of this is to use a floater frame. This provides a simple modern look by adding a space and then a narrow frame around the gallery wrapped canvas.
As I wander through the rooms of my home, I realize there is an eclectic mixture of art and frame styles—some traditional, some modern—all bring the timeless joy of delightful memories.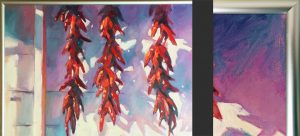 Sources
Following are links to online sources for ready made frames.
JFM Enterprises
(distributor of high quality frames, must register with your resale tax # and certificate)