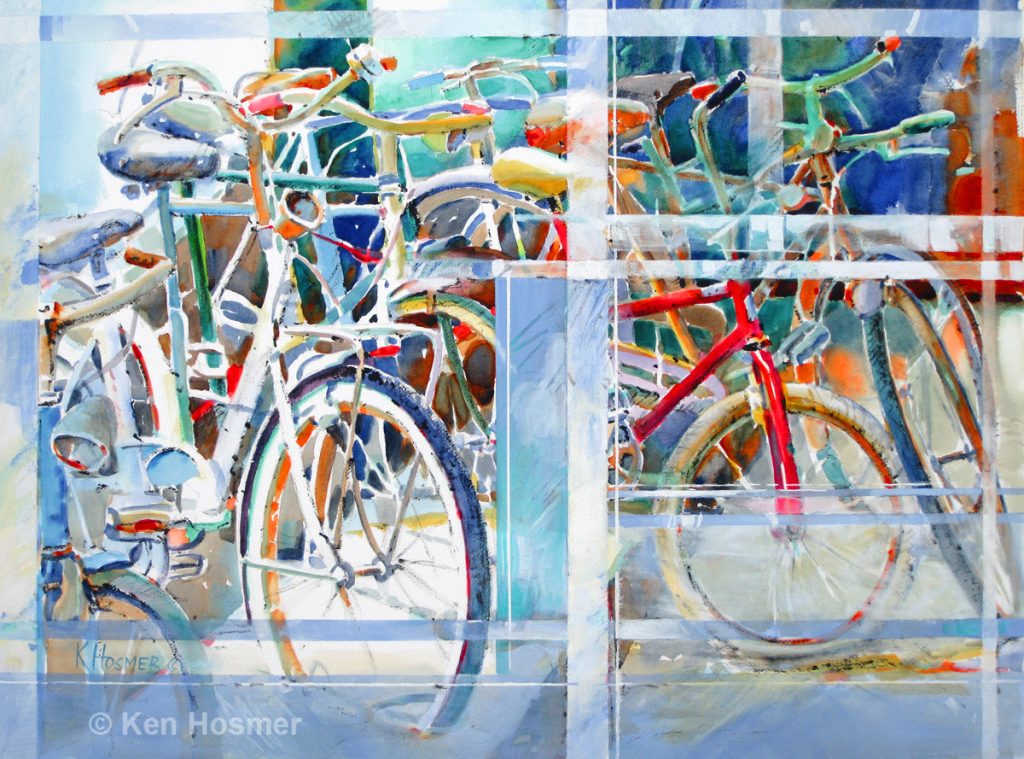 An Experiment in Creativity
It is popular to say, "The painting speaks for itself." However, I am always considering ways to enhance the viewer experience. Here, I share the results of my latest experiment in creative expression.
Featured painting:
'Window Through Time'—watermedia on paper by Ken Hosmer
In 2015, I joined Impact Nebraska Artists, a group which specializes in providing art exhibits for museums and galleries. I already knew several of the artists involved and felt this would be a great way to gain exposure and challenge myself with new projects.
My task was twofold: first I must create specific topic-oriented paintings, as each Impact show had a predetermined theme; then I must write a descriptor for each painting, to share supplemental information with viewers.
Most of the themes were fairly simple, but one show was much more complex than the others. For this art exhibit I would interpret a poem by Ted Kooser, the 13th United States Poet Laureate and Pulitzer recipient. Mr. Kooser teaches at the University of Nebraska in Lincoln, but until this project I was unfamiliar with his work. So I went to the public library and checked out several books of his poetry.
I was immediately captivated by the sheer power of Ted Kooser's poems—straightforward, evocative, and above all, inspirational. Furthermore, his writing reminded me that when I was young, I loved to compose poems, a pastime abandoned long ago as I pursued my dream of being a painter.
I selected the Kooser poem titled, "Flying at Night." As I played with ideas, it became evident that I did not want to simply illustrate the poem; rather, I wanted two independent yet parallel art forms, enhancing each other through a common theme. While completing the painting, I discovered the beauty of painting and poetry together.
I began to rethink the descriptors for my other theme paintings. Instead of a few simply stated facts about each painting, I began crafting carefully worded poetic descriptions. That is to say, I was painting with words.
My hope is that this venture leads the viewer to see each painting—and the world—in a new way.
Here, I present four paintings each with a companion piece of free verse. All are from Impact Exhibits. Flying at Night, is linked to the Ted Kooser poem which inspired creation of the painting.
Kooser Art Exhibit
Flying at Night—view poem by Ted Kooser
Skyscape Art Exhibit
After the Rain—by Ken Hosmer
Our lives are often bombarded by unexpected storms.
Though we struggle, we must have faith
that after the rain the skies will clear.
And in the exquisite beauty of that moment,
we take solace knowing that the river of life is replenished.
Impact Best Art Exhibit
Window Through Time—by Ken Hosmer
With the excitement of a young boy,
I anxiously tug open the shed door.
From my pocket I pull a piece of stiff grey cardboard
and a clothespin borrowed from my mother's wash line.
When I clip the grey flap to the fender brace of my Huffy bike,
the turning spokes magically roar to life
with the clat-tat-tat-tat of a motor.
I zoom up the street, catch the breeze on my face,
splash through puddles.
The joy of summer fills my world.
On cool and quiet mornings, I release the handlebars
and steer with a gentle shift of weight,
a delicately balanced spaceship
gliding though the galaxy.
Many years have passed since then.
But as I browse the menagerie of used bicycles for sale,
I close my eyes and ride again,
on a glorious, time machine of memories.
All Things Botanical Art Exhibit
Quiet Moment—by Ken Hosmer
Beside the garden pond,
I take pause from life's hectic pace.
Here, I cherish a quiet moment,
where lily pads float in a liquid mirror,
caressed by ripples from koi fish hiding below.
Links to more information:
Impact Nebraska Artists